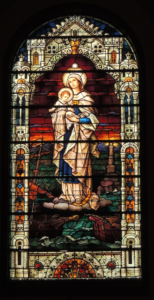 "With a hymn composed in the eighth or ninth century, thus for over a thousand years, the Church has greeted Mary, the Mother of God, as "Star of the Sea": Ave maris stella. Human life is a journey. Towards what destination? How do we find the way? Life is like a voyage on the sea of history, often dark and stormy, a voyage in which we watch for the stars that indicate the route. The true stars of our life are the people who have lived good lives. They are lights of hope. Certainly, Jesus Christ is the true light, the sun that has risen above all the shadows of history. But to reach him we also need lights close by—people who shine with his light and so guide us along our way. Who more than Mary could be a star of hope for us? With her "yes" she opened the door of our world to God himself; she became the living Ark of the Covenant, in whom God took flesh, became one of us, and pitched his tent among us (cf. Jn 1:14).
Pope Benedict XVI from his Encyclical Letter, Spe Salvi
WELCOME VISITORS AND NEW PARISHIONERS
Welcome to The Basilica of Saint Mary Star of the Sea. Whether you are a visitor or new to our parish, interested in becoming Catholic, seeking to return to the practice of your faith or an active member of our parish, we are pleased that you have come to our website and we will do all that we can to assist you. If you cannot find the information that you are seeking on this website, please call our parish office (305) 294 1018 or email us at stmary@stmarykeywest.com and we will make every effort to help you.
If you are a new parishioner, you are invited to stop by the Rectory to register and let us know how we may be of service to you.
You are welcome to pray in the historic Grotto of Our Lady of Lourdes, the Stations of the Cross Garden, to adore the Blessed Sacrament in the Adoration Chapel and to visit our Gift Shop.
Pamphlets, leading you on a self-guided walking tour of the Basilica, are available at the entrance to the Basilica or you can visit our Web App at http://bsmkw.com on your mobile device.

ABCD: Together, We Change Lives
A heartfelt THANK YOU to everyone who made a commitment to the 2019 Archbishop's Charities and Development Drive (ABCD). To date, 158 parishioners have responded. However, we need the support of al members of the Basilica of Saint Mary Star of the Sea if we are to besuccessful in reaching our Parish goal of $ 93,701.82.
Now is the time to make a return to the Lord for all He has given us. Even a small gift can make a big difference in the lives of those in need.Whether your gift is $50.00, $365, $1000.00 or even $5000.00, it is truly impactful and appreciated. If you have not yet responded to the 2019 ABCD, please consider making a gift—a gift from the heart—by using the pledge envelopes in the entrance of the Basilica.
With Lent, ABCD offers an excellent opportunity for alms giving. Let us unite through our support of this year's ABCD so that we can continue to carry out the mercy of Jesus Christ in South Florida. Thank you for all that you do and the spirit in which you do it. God bless you.
Online Gift Shop Now Open!
Our online gift shop is now open. You may now purchase items and have them shipped directly to you. If you have visited our store and don't see some of our items online, give us a call and we will ship the order to you.
Gift Shop Hours
Mon-Fri: 9am – 3pm, Sat: 9am – 2pm, Sunday after all Masses.
For information, call Liz Buchman at (305) 294-0651.
All proceeds from the Gift Shop benefit The Basilica School.
Shop Now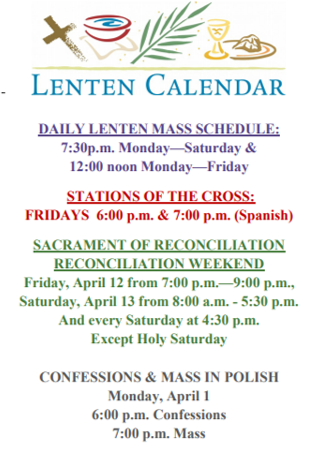 THE KNIGHTS OF COLUMBUS AND BASILICA SCHOOL ANNUAL FISH FRY


Starting Friday, February 15 Thru Friday, March 22, 2019
from 5:00 p.m.-7:30 p.m.

The Knights of Columbus and The Basilica School will begin its Annual Lenten Fish Fry. All proceeds benefit The Basilica School. Come and enjoy delicious baked or fried fish, conch fritters, pasta salad and dessert. Dinner is $12 for adults and $6 for children. Special family pricing is available. Dinner will be served in the new Rose Renna Activity Center. Come out and enjoy the fun!

FORMED is considered the "Netflix for Catholics" and provides extensive access to on demand videos, audio presentations, and eBooks for adults and children in English and in Spanish These resources can be easily accessed online and on any device anytime, anywhere.
To start your free membership, go to www.stmaryskw.formed.org. If prompted to enter a code, enter N4K8W9. If you need assistance or have any questions email them to formed@stmarykeywest.com. Enjoy!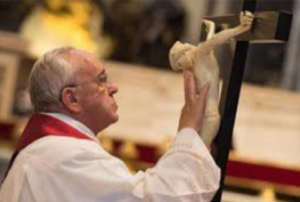 FROM POPE FRANCIS' LENTEN MESSAGE FOR 2019
Dear Brothers and Sisters: The "lenten" period of forty days spent by the Son of God in the desert of creation had the goal of making it once more that garden of communion with God that it was before original sin (cf.MK 1:12-13; Is 51:3). May our Lent this year be a journey along that same path, bringing the hope of Christ also to creation, so that it may be "set free from its bondage to decay and obtain the glorious liberty of the children of God" (Rom8:21). Let us not allow this season of grace to pass in vain! Let us ask God to help us set out on a path of true conversion. Let us leave behind our selfishness and self-absorption, and turn to Jesus' Pasch. Let us stand beside our brothers and sisters in need, sharing our spiritual and material goods with them. In this way, by concretely welcoming Christ's victory over sin and death into our lives, we will also radiate its transforming power to all of creation.
MENSAJE DEL PAPA FRANCISCO PARA LA CUARESMA 2019
Queridos Hermanos y Hermanas: La "Cuaresma" del Hijo de Dios fue un entrar en el desierto de la creación para hacer que volviese a ser aquel jardín de la comunión con Dios que era antes del pecado original (cf. Mc 1,12-13; Is 51,3). Que nuestra Cuaresma suponga recorrer ese mismo camino, para llevar también la esperanza de Cristo a la creación, que «será liberada de la esclavitud de la corrupción para entrar en la gloriosa libertad de los hijos de Dios» (Rm 8,21). No dejemos transcurrir en vano este tiempo favorable. Pidamos a Dios que nos ayude a emprender un camino de verdadera conversión. Abandonemos el egoísmo, la mirada fija en nosotros mismos, y dirijámonos a la Pascua de Jesús; hagámonos prójimos de nuestros hermanos y hermanas que pasan dificultades, compartiendo con ellos nuestros bienes espirituales y materiales. Así, acogiendo en lo concreto de nuestra vida la victoria de Cristo sobre el pecado y la muerte, atraeremos su fuerza transformadora también sobre la creación.
The Basilica School: Fostering growth in spiritual,
academic, cultural, and social development.
To make a donation, please visit
www.basilicaschoolkeywest.com or call 305-294-1031.
The Basilica of St. Mary Star of the Sea
Address
The Basilica of Saint Mary Star of the Sea
1010 Windsor Lane
Key West, FL 33040
Phone/Fax
305-294-1018 Office
305-292-8096 Fax
Email