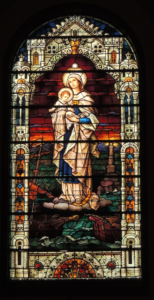 "With a hymn composed in the eighth or ninth century, thus for over a thousand years, the Church has greeted Mary, the Mother of God, as "Star of the Sea": Ave maris stella. Human life is a journey. Towards what destination? How do we find the way? Life is like a voyage on the sea of history, often dark and stormy, a voyage in which we watch for the stars that indicate the route. The true stars of our life are the people who have lived good lives. They are lights of hope. Certainly, Jesus Christ is the true light, the sun that has risen above all the shadows of history. But to reach him we also need lights close by—people who shine with his light and so guide us along our way. Who more than Mary could be a star of hope for us? With her "yes" she opened the door of our world to God himself; she became the living Ark of the Covenant, in whom God took flesh, became one of us, and pitched his tent among us (cf. Jn 1:14).
Pope Benedict XVI from his Encyclical Letter, Spe Salvi
WELCOME VISITORS AND NEW PARISHIONERS
Welcome to The Basilica of Saint Mary Star of the Sea. Whether you are a visitor or new to our parish, interested in becoming Catholic, seeking to return to the practice of your faith or an active member of our parish, we are pleased that you have come to our website and we will do all that we can to assist you. If you cannot find the information that you are seeking on this website, please call our parish office (305) 294 1018 or email us at stmary@stmarykeywest.com and we will make every effort to help you.
If you are a new parishioner, you are invited to stop by the Rectory to register and let us know how we may be of service to you.
You are welcome to pray in the historic Grotto of Our Lady of Lourdes, the Stations of the Cross Garden, to adore the Blessed Sacrament in the Adoration Chapel and to visit our Gift Shop.
Pamphlets, leading you on a self-guided walking tour of the Basilica, are available at the entrance to the Basilica or you can visit our Web App at http://bsmkw.com on your mobile device.
Online Gift Shop Now Open!
Our online gift shop is now open. You may now purchase items and have them shipped directly to you. If you have visited our store and don't see some of our items online, give us a call and we will ship the order to you.
Gift Shop Hours
Mon-Fri: 9am – 3pm, Sat: 9am – 2pm, Sunday after all Masses.
For information, call Liz Buchman at (305) 294-0651.
All proceeds from the Gift Shop benefit The Basilica School.
Shop Now

Mariner Volleyball Season 2018
Congratulations to the Lady Mariners Volleyball Teams for an awesome volleyball season. Our young ladies defeated all the teams
in Monroe County! We were also excited to host our Inaugural Mariner Volleyball Tournament. Our girls finished first at both the KWHS and Mariner tournaments. A special thank you to Coach JJ Noah, Coach Joanna Morris and Coach Alex Chuquillangui for their dedication and each volleyball player for their commitment and positive team spirit! We look forward to another amazing volleyball season in the fall of 2019.
Mariner Basketball Season Begins
Basketball season has arrived. Basketball practice will be held Monday –Thursday in the Rose Renna Activity Center. Mariner girls will practice from 3:30-5:00 and boys from 4:00-5:30pm. Basilica students in grades 4th – 8th are welcome to play. For more information, e-mail office@basilicaschool.com.

Students Night Out
November 16, drop off your student to the Rose Renna Activity Center for a "Students Night Out" – an evening of food, fun and fellowship. The event is open to students of all ages. To sign up, please contact the front office at 305-294-1031 or by e-mail at office@basilicaschool.com. Cost per student is $25 and includes dinner. The event is from 6:00 – 9:00pm.
Save the Date! : The Basilica School's Annual Christmas Program will be held on December 18th at 6:00pm in the Key West High School Auditorium.
Dates to remember:
Nov. 12 – Veterans Day Observed- No School
Nov. 19 – 23 – Thanksgiving Break – No School

PERPETUAL ADORATION CHAPEL
Everyone is welcome to spend some quiet time with Jesus in our Adoration Chapel. May we take advantage of this great opportunity to be in the presence of the Body of Christ. Come and let Him transform you. Please call Maria Delpino at (305) 587-3545 if you are interested in filling in the adoration hours or to be part of the substitute list.
RELIGIOUS EDUCATION CURRICULUM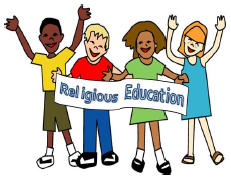 The Archdiocese of Miami has mapped a cumulative religious education curriculum from grades 1-8. This curriculum has been adopted by all Religious Education publishers of text books used in the Archdiocese of Miami. This curriculum has been implemented in all 104
parishes in the Archdiocese of Miami this academic year. It is essential that students participate in all eight years to have an optimal religious education.
From the Archdiocese of Miami Sacramental Guidelines: "Young people, who have been baptized as infants, should be catechized for Confirmation for a period of at least two years. When a child's catechesis has been interrupted for more than one year after First Communion, the preparation period for Confirmation may need to be extended to at least three years."
Seventh grade (Dr. Mona Clark's class) is now called Confirmation I and eighth grade (Principal Robert Wright's class) is now called Confirmation II. Any one who expects to enter Confirmation II in 2019-2020 and to receive the Sacrament of Confirmation in March of 2020 would have had to participate in Confirmation I this academic year 2018-2019.
Archbishop Wenski will come to our Parish to administer the Sacrament of Confirmation for those who have been baptized on Thursday, March 7, 2019 at 7:00 p.m.Rehearsal for this Confirmation will be on Tuesday, March 5, 2019 at 6:00 p.m..
Religious Education Classes are held on Wednesday evenings from 6:30p.m.-7:30p.m. at the Basilica School
For more information please contact Alexandra Chuquillangui, the Religious Education Director at 305-295- 0306. There will not be classes on Halloween, October 31st.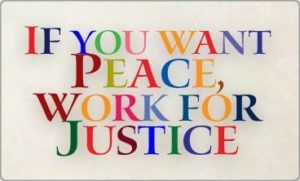 SOCIAL JUSTICE MINISTRY MONTHLY MEETING
Social Justice, is a newly forming ministry here at the Basilica of St. Mary Star of the Sea that strives to help parishioners recognize and respond to their baptismal call to discipleship. Rooted in Scripture and guided by Catholic Social Teaching (CST), this ministry seeks to educate the parish about social ministry and provide the means by which individuals and the parish community can use their gifts to serve the poor and vulnerable and to work for justice locally and throughout the world. If you are interested in learning more about Social Justice and becoming a part of this vibrant ministry, please join us on Monday 10/12/18 at 7:00 PM, in the St. Francis Room of the KMC. For more information, contact Brenda Callahan at 410-703-8211 or email bcallahan@stmarykeywest.com.
What is Stewardship?
It is a lifestyle, a life of total accountability and responsibility. It is the acknowledging of God as the Creator and Owner of all. Stewards see themselves as the caretakers of all Gods' gifts. Gratitude for these many gifts is expressed in prayer, worship, offering and action. Stewardship is a way of life. It is a way of thanking God for all our blessings by returning to God a portion of the many gifts (everything we have, for instance, our time, talent and treasure) that we have been given. It involves the intentional, planned and proportionate giving of all we have.
Finally, stewardship encourages everyone to participate in the task of building the Kingdom of God. When we explain that God has given each of us certain things, that these gifts are our responsibility to care for, and that we are accountable for what we do with these gifts, then there is no doubt that everyone should be involved. Stewardship rejects the notion that we must "have it all" and instead, demonstrates the value of giving in love, in service and in justice. Stewardship is based on the spiritual principles of the Old Testament and the teachings of Jesus Christ. ""Christ has no body now on earth but yours, no hands but yours, yours are the eyes through which he is to go about doing good, yours are the hands with which he is to bless people now…" (St. Teresa of Avila)
By your stewardship, we are able to maintain these holy grounds. In a very short time span, your stewardship provided a new slate roof fon the Basilica, created the Klaus Murphy Center, built the Rose Renna Activity Center and helped us recover from a hurricane! Masses are joyful. Sacraments are provided to all who are called. Pilgrims are welcomed to the Basilica. Our School is doing well. There are ministries serving and faith formation opportunities for both adults and children in English and Spanish. When it became apparent that the needs in Monroe County were greater than the capability of this Parish, the Star of the Sea Foundation was created. With very good stewardship, SOS Foundation now provides over 2,000,000 lbs. of food annually through twenty five feeding agencies including the Star of the Sea Outreach Mission and at the SOS food Pantry at St. Justin Martyr in Key Largo and, through stewardship, created the SOS Callahan Community Kitchen which is now providing children's' meals to hundreds daily.
In working together as stewards of God's gifts, we have been able to provide what is needed for us and for our neighbor in need. "Blessings and glory and wisdom and thanks and honor and power and strength to our God forever and ever! Amen". Revelation 7:12.

VIRTUS TRAINING
Tuesday November 13 at 6 p.m.
There will be a Virtus class Tuesday, November 13 at 6 p.m. in The Basilica School Library. Please preregister online at  www.virtusonline.org. (Walk-ins are welcome, but you must register on-line immediately after the class to get credit. We can help with
that.) The class runs about two hours, and please note that children may not attend.
The Archdiocese of Miami requires that all volunteers who work with children or vulnerable adults: 1) participate in the Virtus® program, and 2) be fingerprinted. This includes Eucharistic ministers who visit the homebound, senior servers, and those who volunteer for school, scouts and Religious Ed. Fingerprinting is done at The Basilica School but you must first register with www.fieldprintflorida.com. Call the school office (294-1031) for access codes or more information. We're happy to help.
If you have questions about Virtus or fingerprinting, call or email Eileen D-H at school (edh@basilicaschool.com). Many thanks to those who already participate in Virtus. Please remember to read your monthly bulletins to retain your active status in the program. God bless you for your dedication to protecting the vulnerable among us.

COMPASS 82: Were you affected by Hurricane Irma? Do you need help navigating available resources? Compass 82, a nonprofit that specialized in navigating disaster recovery resources, has partnered with VOLUNTEER FLORIDA to provide Disaster Case Management to residents of Monroe County who were affected by Hurricane Irma. Call today for Disaster Case Management services at 1-305-859-4762.
REBUILD FLORIDA: Rebuild Florida is a program of the Florida Department of Economic Opportunity. To those Florida homeowners who were impacted by Hurricane Irma, we know your road to recovery has been long and difficult. Our team is here to help eligible Floridians repair, rebuild or replace your home. For more information call 844-833-1010.
NOW HIRING: Catholic Charities is looking to hire a Counselor who will provide Solution Focused Brief Therapy for individuals and families from the community. Position requires local travel within Monroe County and Licensed in Social Work, marriage and Family Therapy or Mental Health Counseling in the state of Florida. Apply Online at www.ccadm.org.
For more information on these programs and other services provided by Catholic Charities call 305-292-9790 or visit them at 2409 N. Roosevelt Blvd., Suite #1, Key West, Florida.
The Basilica School: Fostering growth in spiritual,
academic, cultural, and social development.
To make a donation, please visit
www.basilicaschoolkeywest.com or call 305-294-1031.
The Basilica of St. Mary Star of the Sea
Address
The Basilica of Saint Mary Star of the Sea
1010 Windsor Lane
Key West, FL 33040
Phone/Fax
305-294-1018 Office
305-292-8096 Fax
Email