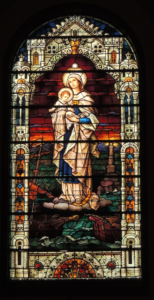 "With a hymn composed in the eighth or ninth century, thus for over a thousand years, the Church has greeted Mary, the Mother of God, as "Star of the Sea": Ave maris stella. Human life is a journey. Towards what destination? How do we find the way? Life is like a voyage on the sea of history, often dark and stormy, a voyage in which we watch for the stars that indicate the route. The true stars of our life are the people who have lived good lives. They are lights of hope. Certainly, Jesus Christ is the true light, the sun that has risen above all the shadows of history. But to reach him we also need lights close by—people who shine with his light and so guide us along our way. Who more than Mary could be a star of hope for us? With her "yes" she opened the door of our world to God himself; she became the living Ark of the Covenant, in whom God took flesh, became one of us, and pitched his tent among us (cf. Jn 1:14).
Pope Benedict XVI from his Encyclical Letter, Spe Salvi
WELCOME VISITORS AND NEW PARISHIONERS
Welcome to The Basilica of Saint Mary Star of the Sea. Whether you are a visitor or new to our parish, interested in becoming Catholic, seeking to return to the practice of your faith or an active member of our parish, we are pleased that you have come to our website and we will do all that we can to assist you. If you cannot find the information that you are seeking on this website, please call our parish office (305) 294 1018 or email us at stmary@stmarykeywest.com and we will make every effort to help you.
If you are a new parishioner, you are invited to stop by the Rectory to register and let us know how we may be of service to you.
You are welcome to pray in the historic Grotto of Our Lady of Lourdes, the Stations of the Cross Garden, to adore the Blessed Sacrament in the Adoration Chapel and to visit our Gift Shop.
Pamphlets, leading you on a self-guided walking tour of the Basilica, are available at the entrance to the Basilica or you can visit our Web App at http://bsmkw.com on your mobile device.

Archdiocese accepting donations for Dorian relief
In the aftermath of Hurricane Dorian, the Archdiocese of Miami is currently accepting donations for those affected by the impacts of this storm through Catholic Charities of the Archdiocese of Miami. Click here to learn more. 
Online Gift Shop Now Open!
Our online gift shop is now open. You may now purchase items and have them shipped directly to you. If you have visited our store and don't see some of our items online, give us a call and we will ship the order to you.
Gift Shop Hours
Mon-Fri: 9am – 3pm, Sat: 9am – 2pm, Sunday after all Masses.
For information, call Liz Buchman at (305) 294-0651.
All proceeds from the Gift Shop benefit The Basilica School.
Shop Now
Dear Basilica School Families & Parishioners:
Stewardship is a simple word that communicates our response—in time, talent and treasure—to all the blessings that we have received from God. A couple of weeks ago, I announced The Basilica School's inaugural Annual Fund, which concluded on November 15th.
The Basilica School has provided thousands of children a quality education, rooted in a rich Catholic tradition, for over 150 years. Throughout our operation, the School has seen its ups and downs. But it has always been sustained by the ceaseless generosity of God, who provides for us through those who choose to be instruments of His goodness. These benefactors have and continue to give selflessly to the mission of our School.
As many of you may already know, the real cost per student at The Basilica School is $9,200, a sum that reflects just basic operational costs (no set asides for reserves). On average, we provide subsidy and grant & aid to the tune of $4,000 per student, for over 300 students. This is the mission that we adopted a decade ago, to provide children a quality and affordable education.
To sustain such a mission, the School realized that doubling tuition or cutting programs would not bring about the desired outcome. Rather, the only sensible means to sustainability is through planned giving and growing the endowment. The silent phase of this campaign started in 2007. An endowment fund was created (The Key West Catholic Education Fund at the Archdiocese of Miami Catholic Community Foundation) through the sale of land in order to provide operation costs and to subsidize tuition through our Tuition Assistance Program (TAP). Last year we began to actively solicit grants and donations from various foundations and individuals to grow this fund.
During the month of November, the Parish focuses on stewardship. Last weekend, Deacon Peter Batty announced that an anonymous parishioner donated $100,000 in a stock transfer to the Key West Catholic Education Fund. Here at the School, we wished to show our own commitment to stewardship. Thus, we initiated our first Annual Fund campaign. Funds—raised or pledged—will support our School today to assist with current operating revenues as well as to secure our future success through our endowment fund. The Basilica School has experienced amazing growth over the last few years from enrollment to programming, investment in personnel to capital improvements. The best path to sustaining this mission while continuing to provide a quality educational experience is through endowment.
I want to conclude by thanking you for all that you do already for our School. We have a wonderful school because we have wonderful students. And we have wonderful students because we have families who fully love and support their children. It is an honor to serve you and the families of this community. May God bless you and fill your homes with His mercy and joy.
Sincerely,
Robert M. Wright, , M.S.Ed.,
Principal
RELIGIOUS EDUCATION PROGRAM
"It is not enough to love the young; they must know that they are loved."St. John Bosco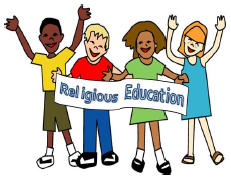 Classes for Grades 1-7 have begun on Wednesdays at 6:30 p.m. and are to be held at The Basilica School. Classes for our Confirmation students will be on Sundays at 10:00 a.m. at the Rose Renna Activity Center.
You may register your children at the Rectory on Mondays 12:30 p.m.-4:30 p.m. and Tuesday-Friday at 8:00 a.m.-4:30 p.m. You may access these forms in English and in Spanish on our website: www.stmarykeywest.com/ccd/. We ask that you mail, or bring the registration to the Rectory.
For more information please call 305-294-1018. As always, Thank you for your continued participation and support in this wonderful ministry within our parish. God Bless!!

COFFEE & DONUTS!
The Hospitality Ministry has begun offering coffee and donuts after the 7:30 a.m., 9:00 a.m. and 10:30 a.m. Masses in the Mary Immaculate Room of the Klaus Murphy Center. If you are interested in volunteering your time, please contact Tim Jones at 305-849-0763 or Lana Jabour at 305-942-6905.
THE 4 TERESAS BOOK CLUB FOR WOMEN
Our next meeting will be on Monday, November 18, 6pm-7pm in the Mary Immaculate Room of the Klaus Murphy Center.
We are reading through Chapter 9 of "I Believe in Love" and discussing options for our next study! Join us! https://www.facebook.com/groups/ladiesofthebasilicasos/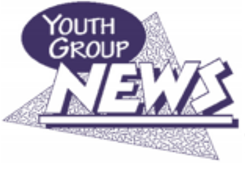 SEEK YOUTH GROUP
The Seek Youth Group will be meeting every Wednesday from 6:15 p.m. to 7:30 p.m. (except for Thanksgiving week) in the Mary Immaculate Room of the Klaus Murphy Center.
SEEK Youth Group has a new Instagram account. Follow @seekstarofthesea to keep up with all of the SEEK youth group happenings Don't miss out! "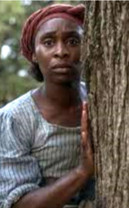 MOVIE NIGHT at the TROPIC CINEMA
In November 2018 the Catholic Bishops of the United States released a Pastoral Letter against racism entitled "Open Wide Our Hearts" which states: "As Christians, we are called to listen and know the stories of our brothers and sisters. We must create opportunities to hear, with open hearts, the tragic stories that are deeply imprinted on the lives of our brothers and sisters, if we are to be moved to empathy to promote justice." In light of this letter, we join with the Interfaith Ministerial Alliance (IMA), invites you to attend a special showing of the movie "Harriet" at the Tropic Cinema on Sunday, November 17 at 5:00 PM. A lively discussion on "Race, Religion and the Continuing American Dilemma" will follow.
Free tickets are available by request, and no one will be turned away due to lack of funds. Everyone is welcome! For more information, please contact Brenda Callahan at bcallahan@stmarykeywest.com

THANKSGIVING DAY MASS
On Thanksgiving Day, November 28, 2019 there will be one Mass at 7:30 a.m.. 
You are invited to bring to the Mass an item which you will serve at your Thanksgiving table: bread, wine, candles, etc…, and most important yourself. At the end of the Mass, you and these items will be blessed, that the love which we celebrate in the Eucharist will fill your Thanksgiving table with peace.
May you and your family have a blessed Thanksgiving celebration. May the love of Christ which we celebrate in the Eucharist fill your Thanksgiving tables with peace.
The Basilica School: Fostering growth in spiritual,
academic, cultural, and social development.
To make a donation, please visit
www.basilicaschoolkeywest.com or call 305-294-1031.
The Basilica of St. Mary Star of the Sea
Address
The Basilica of Saint Mary Star of the Sea
1010 Windsor Lane
Key West, FL 33040
Phone/Fax
305-294-1018 Office
305-292-8096 Fax
Email