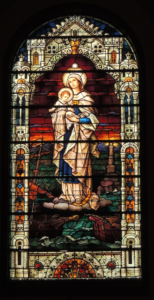 "With a hymn composed in the eighth or ninth century, thus for over a thousand years, the Church has greeted Mary, the Mother of God, as "Star of the Sea": Ave maris stella. Human life is a journey. Towards what destination? How do we find the way? Life is like a voyage on the sea of history, often dark and stormy, a voyage in which we watch for the stars that indicate the route. The true stars of our life are the people who have lived good lives. They are lights of hope. Certainly, Jesus Christ is the true light, the sun that has risen above all the shadows of history. But to reach him we also need lights close by—people who shine with his light and so guide us along our way. Who more than Mary could be a star of hope for us? With her "yes" she opened the door of our world to God himself; she became the living Ark of the Covenant, in whom God took flesh, became one of us, and pitched his tent among us (cf. Jn 1:14).
Pope Benedict XVI from his Encyclical Letter, Spe Salvi
WELCOME VISITORS AND NEW PARISHIONERS
Welcome to The Basilica of Saint Mary Star of the Sea. Whether you are a visitor or new to our parish, interested in becoming Catholic, seeking to return to the practice of your faith or an active member of our parish, we are pleased that you have come to our website and we will do all that we can to assist you. If you cannot find the information that you are seeking on this website, please call our parish office (305) 294 1018 or email us at stmary@stmarykeywest.com and we will make every effort to help you.
If you are a new parishioner, you are invited to stop by the Rectory to register and let us know how we may be of service to you.
You are welcome to pray in the historic Grotto of Our Lady of Lourdes, the Stations of the Cross Garden, to adore the Blessed Sacrament in the Adoration Chapel and to visit our Gift Shop.
Pamphlets, leading you on a self-guided walking tour of the Basilica, are available at the entrance to the Basilica or you can visit our Web App at http://bsmkw.com on your mobile device.
Online Gift Shop Now Open!
Our online gift shop is now open. You may now purchase items and have them shipped directly to you. If you have visited our store and don't see some of our items online, give us a call and we will ship the order to you.
Gift Shop Hours
Mon-Fri: 9am – 3pm, Sat: 9am – 2pm, Sunday after all Masses.
For information, call Liz Buchman at (305) 294-0651.
All proceeds from the Gift Shop benefit The Basilica School.
Shop Now
RELIGIOUS EDUCATION PROGRAM
"It is not enough to love the young; they must know that they are loved."St. John Bosco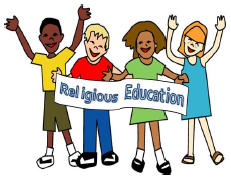 Deacon Bob Magnuson has assumed the service of coordinating and directing faith formation for our children parishioners who attend public and charter schools in Monroe County. Deacon Bob has been a catechist for years in his former Diocese of Hartford, CT. He is driven by thespirituality of Saint John Bosco, who when he was canonized in 1934, was given the title, "Father and Teacher of Youth."
Therefore, the Religious Education program will begin on September 4, 2019 at 6:30 p.m.to 7:30 p.m. in the Basilica with an orientation for parents and their children as to the faith formation for our youth according to the Father and the Teacher of Youth, Saint John Bosco.
Between now and September, we encourage you to register your children at the Rectory on Mondays 12:30 p.m.- 4:30 p.m. and Tuesday-Friday at 8:00 a.m.-4:30 p.m. You may access these forms in English and in Spanish on our website: http://stmarykeywest.com/ccd/. We ask that you mail, place the registration forms in the collection basket, bring the registrations forms to the Rectory or bring the forms to the Orientation on Wednesday, September 4 at 6:30 p.m.

There will be a Virtus class Thursday, August 29 at 6:00 p.m. in The Basilica School Library. Please pre-register online at www.virtusonline.org. (Walk-ins are welcome, but you must register on-line immediately after the class to get credit. We can help with that.) The class runs about two hours, and please note that children may not attend.
The Archdiocese of Miami requires that all volunteers who work with children or vulnerable adults: 1) participate in the Save & Exit Virtus® program, and 2) be fingerprinted. This includes Eucharistic ministers who visit the homebound, senior servers, and volunteers for school, scouts and Religious Ed.
Fingerprinting is done at The Basilica School but you must first register with www.fieldprintflorida.com. Call the school office (294-1031) for access codes or more information. We're happy to help.
If you have questions about Virtus or fingerprinting, call or email Eileen D-H at school (edh@basilicaschool.com). Many thanks to those who already participate in Virtus. Please remember to read your monthly bulletins to retain your active status in the program. God bless you for your dedication to protecting the vulnerable among us.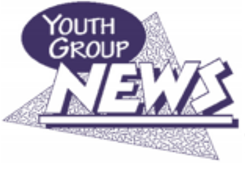 ATTENTION ALL 8TH–12TH GRADE STUDENTS!
Are you looking to begin exploring your faith? Interested in learning how to navigate the real world while keeping Christ in your heart? Join SEEK SOS!
We will begin meeting shortly after the start of the school year. Join us for food, coffee, great conversation, and fun! We will also gather for community and service projects.
Keep an eye out in the weekly bulletin for a meeting time and date coming soon!

Get help from counseling with a Catholic perspective.
Don't suffer any longer. Catholic Charities offers Confidential Counseling to help you cope with life challenges.
♦ Marriage/couples/family counseling
♦ Grief, sickness or major life changes
♦ Financial and employment difficulties
♦ Depression, trauma or abuse
♦ Anxiety, stress management, etc.
Sessions are free for hurricane Irma survivors. Call us for an appointment or brief phone consultation. Sessions are available in Monroe, Dade and Broward counties. For more information please call (954)332-7070.

ADOPT-A CLASS
We are all looking forward to an amazing 2019-2020 school year! In hopes of helping the teachers offset the cost of all they put into their classrooms, we are seeking a few donors to assist in "adopting" a classroom. The Adopt-a-Class program sets a goal of $300.00 per classroom. If you are interested in supporting this program in any way please call 305-294-1031 or e-mail bookkeeper@basilicaschool.com.
Upcoming Events:
Aug 29 – VIRTUS Training 6pm
Sept 2 – No School Labor Day

SUNDAY SCRIPTURE STUDY
As a development from RCIA classes this year, there is a study and discussion group on Mondays at 7:15 p.m. in the Klaus Murphy Center's Star of the Sea Room facilitated by Deacons Peter Batty and Bob Magnuson. Since the classes are focused on the readings from the Liturgy of the Word for the upcoming Sunday and are not sequential, it is not necessary to register or to attend all classes. Just come when you can to share in the joy of our faith.
The Basilica School: Fostering growth in spiritual,
academic, cultural, and social development.
To make a donation, please visit
www.basilicaschoolkeywest.com or call 305-294-1031.
The Basilica of St. Mary Star of the Sea
Address
The Basilica of Saint Mary Star of the Sea
1010 Windsor Lane
Key West, FL 33040
Phone/Fax
305-294-1018 Office
305-292-8096 Fax
Email