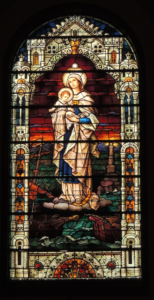 "With a hymn composed in the eighth or ninth century, thus for over a thousand years, the Church has greeted Mary, the Mother of God, as "Star of the Sea": Ave maris stella. Human life is a journey. Towards what destination? How do we find the way? Life is like a voyage on the sea of history, often dark and stormy, a voyage in which we watch for the stars that indicate the route. The true stars of our life are the people who have lived good lives. They are lights of hope. Certainly, Jesus Christ is the true light, the sun that has risen above all the shadows of history. But to reach him we also need lights close by—people who shine with his light and so guide us along our way. Who more than Mary could be a star of hope for us? With her "yes" she opened the door of our world to God himself; she became the living Ark of the Covenant, in whom God took flesh, became one of us, and pitched his tent among us (cf. Jn 1:14).
Pope Benedict XVI from his Encyclical Letter, Spe Salvi
WELCOME VISITORS AND NEW PARISHIONERS
Welcome to The Basilica of Saint Mary Star of the Sea. Whether you are a visitor or new to our parish, interested in becoming Catholic, seeking to return to the practice of your faith or an active member of our parish, we are pleased that you have come to our website and we will do all that we can to assist you. If you cannot find the information that you are seeking on this website, please call our parish office (305) 294 1018 or email us at stmary@stmarykeywest.com and we will make every effort to help you.
If you are a new parishioner, you are invited to stop by the Rectory to register and let us know how we may be of service to you.
You are welcome to pray in the historic Grotto of Our Lady of Lourdes, the Stations of the Cross Garden, to adore the Blessed Sacrament in the Adoration Chapel and to visit our Gift Shop.
Pamphlets, leading you on a self-guided walking tour of the Basilica, are available at the entrance to the Basilica or you can visit our Web App at http://bsmkw.com on your mobile device.
Hurricane Irma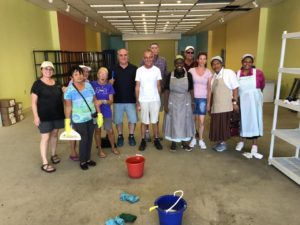 The Basilica of St. Mary Star of the Sea coordinates its relief effort through Star of Sea (SOS) Foundation. The American Red Cross is also partnering with SOS Foundation in response to the overwhelming generosity of the Florida residents who want to help the people affected by hurricane Irma.
Unfortunately, SOS Foundation sustained significant damage at the Outreach Mission located on Stock Island (collapsed roof). However, thanks to a generous benefactor, SOS has relocated to a temporary storefront located next to KMART in Key Plaza. SOS will open the Key Plaza storefront for general distribution on Monday 9/25/17.
To donate, or help with the volunteer effort, please visit sosmission.org
Donate
Volunteer
Online Gift Shop Now Open!
Our online gift shop is now open. You may now purchase items and have them shipped directly to you. If you have visited our store and don't see some of our items online, give us a call and we will ship the order to you.
All proceeds from the Gift Shop benefit The Basilica School.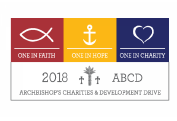 2018 ARCHBISHOP' CHARITY AND DEVELOPMENT DRIVE BEGINS
The Archbishop's Charities and Development Drive (ABCD), our diocesan annual appeal, provides us with an opportunity to come together as one community of faith to serve the educational, physical and spiritual needs of our Catholic community here in south Florida. Guided by the Holy Spirit, we come together to advance our mission to love and serve, as Jesus did, through acts of charity and compassion to help those in need.
Our Faith is alive in our parishes and schools, in our apostolic movements and ministries, and in our various programs of outreach to the poor, the immigrant, the elderly, the homeless and the disabled. It is alive in our people, people of all backgrounds and ages, and throughout every corner of our Archdiocese. For all of us, making a gift to the ABCD is a way to give expression to the faith contained in our hearts; and for many, it is also an opportunity to give back, in thanksgiving, for the many blessings we have received from God.
If you have not already responded to the letter sent to you by Archbishop Wenski in the mail, please take time to prayerfully consider your pledge for this year. Open your hearts in support of the ABCD and the hundreds of thousands of people it helps by making a gift. Each gift makes a difference and changes lives.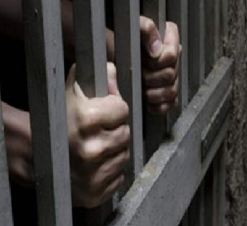 NEW FAITH FORMATION PROGRAM STARTING!
Church of Second Chances: A Faithful Exploration of Incarceration
Wednesdays 5:30 to 7:00 PM (1/3/18 – 2/28/18)
Church of Second Chances: A Faithful Exploration of Incarceration is an eight week JustMatters module that introduces the Christian principle of restorative justice, points out the critical need for comprehensive prison reform, and offers a faith-based critique of the U.S. prison system.
By sharing the stories of incarcerated people through interviews, documentaries, presentations by experts, dialogue, and reflection. The Church of Second Chances widens the circle of connection. Exploring the lived experience of people behind bars and exposing injustices in the judicial system through the lens of faith, this eight week program hopes to inspire a prophetic revision of incarceration that invites restoration, mercy, and reconciliation. REGISTRATION is required to access program materials. For more information, contact Brenda Callahan at (410) 703 8211, or email bcallahan@stmarykeywest.com.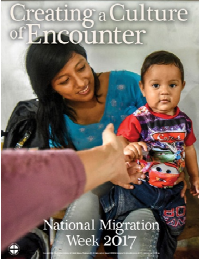 NATIONAL MIGRATION WEEK
January 7-13, 2018
Many Journeys, One Family
For nearly a half-century, the Catholic Church in the United States has celebrated National Migration Week, which is an opportunity for the Church to reflect on the circumstances confronting migrants, including immigrants, refugees, children, and victims and survivors of human trafficking. The theme for National Migration Week 2017, "Many Journeys, One Family," draws attention to the fact that each of our families has a migration story, some recent and others in the distant past. Regardless of where we are and where we came from, we remain part of the human family and are called to live in solidarity with one another.
Unfortunately, in our contemporary culture we often fail to encounter migrants as persons, and instead look at them as unknown others, if we even notice them at all. We do not take the
time to engage migrants in a meaningful way, as fellow children of God, but remain aloof to their presence and suspicious or fearful of them. During this National Migration Week, let us all take the opportunity to engage migrants as community members, neighbors, and friends.
SAINT MARTHA HALL
AND
THE MARTHA MINISTRY
Language is conventional according to Anthropology 101. A soup kitchen conventionally is understood to be a place where food is prepared and served for those in need. Since July of this past year, the Soup Kitchen has not served food at 2700 Flagler Ave. Rather, food has been prepared at 2700 Flagler Ave. and then served at the Keys Overnight Temporary Shelter (KOTS) by the SHAL workers. Due to the impending construction of housing by Catholic Charities on 2700 Flagler Ave., the preparation of food will take eventually take place in the New Beginnings Building. Until that building is prepared with a kitchen, the preparation of the food will take place in the Klaus Murphy Center. The food will continue to be picked up and served at KOTS by the SHAL workers.
In Luke 10: 38-42, we hear of Saint Martha who busied herself in the kitchen. This ministry is now renamed the Martha Ministry. When construction is completed for the kitchen in New Beginnings Hall, it shall be renamed Saint Martha Hall.
If you would like to help with Martha Ministry, please contact the Director of the Soup Kitchen, now the Director of the Martha Ministry, Mary Leen, 603-801-6562 or at mdleen@msn.com.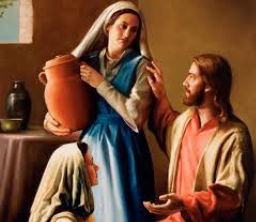 MEMORIAL FOR THE UNBORN

The first principal of Catholic Social Teaching is life and dignity of the human person. The Catholic church proclaims that human life is sacred and that the dignity of the human person is the foundation of a moral vision for society. This belief is the foundation of all the principles of our social teaching. We believe that every person is precious, that people are more important than things and that the measure of every institution is whether it threatens or enhances the life and dignity of the human person.
The Memorial to the Unborn to the right of the Grotto was dedicated in 1995 and was gifted to the Parish by the Fourth Degree Knights of Columbus. Since then, on the Sunday closest to January 22, the Fourth Degree Knights of Columbus stand vigil at the Memorial for the Unborn all morning and pray the rosary after the 10:30a.m. Mass when many of our brothers and sisters join in Washington, DC for the Right to Life March. This March and our Memorial commemorates the now 59,000,000 children aborted since 1973 and commemorates all unborn children. Recently a young couple invited one of our priests to pray with them at the Memorial to the Unborn for their miscarried baby.
On Sunday, January 21, you are invited to pray the rosary at the Memorial for the Unborn after the 10:30a.m. Mass for a greater respect for the dignity and life of the human person and are invited to say a prayer at the Memorial for the Unborn as the Fourth Degree Knights of Columbus stand vigil during the morning.
A CALL TO PARTICIPATE
"A good Catholic meddles in politics, offering the best of himself, so that those who govern can govern."-Pope Francis (Morning Meditation, Sept. 16, 2013)
AN OPPORTUNITY TO CONNECT
The Florida Catholic Conference of Catholic Bishops provides opportunities for Catholics in Florida to carry out their responsibility to participate in political life.
The Florida Catholic Advocacy Network (FLCAN) is a statewide, online community established by the bishops of Florida that exists to connect, educate, and mobilize Catholics across Florida's seven dioceses on public policy issues pertaining to life, dignity, and the common good. FLCAN provides the opportunity to speak on behalf of the poor, the disabled, the sick or dying, the unborn, the elderly, families and children, immigrants, the imprisoned, and others in need. By raising our voices together, we strengthen the presence of the Catholic faithful in the public square.
Please take a few minutes TODAY to complete the green postcard (located in the back of the church) and return it to the
collection basket next weekend. You can also sign up directly online at www.flaccb.org.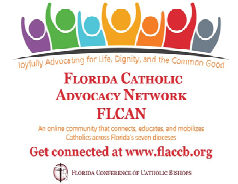 Potluck Dinner and Discussion
with Deacon Edgardo Farias, Director, Archdiocese of Miami Office of Detention Ministry
Deacon Edgardo Farias, who will travel from Miami to present a training session for those involved in Detention Ministry, has graciously also made himself available to the entire parish to speak on issues related to Restorative Justice. This very informal dinner and discussion will take place in the Mary Immaculate Room of the Klaus Murphy Center on Friday, January 26th at 6:00pm. The event is open to everyone, and all are invited to bring a dish to share. For more information on this event, or how you might become involved in Detention Ministry, contact Brenda Callahan at (410) 703 8211 or email bcallahan@stmarykeywest.com.
RITE ORDER OF CHRISTIAN INITIATION FOR ADULTS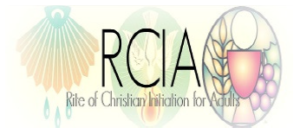 Classes are held in the Klaus Murphy Center and begin at 7:15pm and end at 8:30pm. If you are interested in becoming a Catholic, finding out more about the faith, or have not yet made your Confirmation you are invited to attend. For more information please call the Rectory office (305 -294-1018) or Deacon Peter Batty (305-797-0656).
RITO DE INICIACION CRISTIANA DE ADULTOS
Las personas que están interesadas en convertise en Católico o completar los Sacramentos de Comunión y Confirmacion, pueden comunicarse a las oficinas de la Rectoria (305-294-1018) para mas información. Las clases se ofrecen los Domingos a la 11:00a.m. en el centro de Klaus Murphy.

BEREAVEMENT MEETINGS
If you are working your way through the grieving process from the death of a spouse, parent, child, sibling or friend, be reminded that grief support meetings are available to you every Thursday at 7:15 pm in the St. Francis Room of the Klaus Murphy Center. All bereaved are invited to receive support.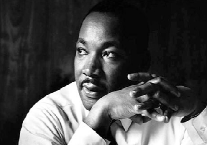 Interfaith Ministerial Alliance
Martin Luther King Prayer Breakfast
Bethel AME Church, 223 Truman
Avenue 8:00 AM to 10:00 AM
On Monday, January 15, 2018, as our nation celebrates Martin Luther King, Jr. Day, parishioners from the Basilica will join with members of the Interfaith Ministerial Alliance for prayer, fellowship, and inspiration at the seventh annual Martin Luther King, Jr. Legacy Scholarship Prayer Breakfast.
Our bodies will be fed with a full, hot breakfast served at 8 am. Our spirits will be nourished with the commanding words of Bishop Adam Jefferson Richardson, Jr., Presiding Prelate 11th Episcopal District, African Methodist Episcopal Church. Tickets are $25, and all proceeds beyond expenses, are given as scholarships for deserving students from Key West High School and Key West Collegiate Academy. For tickets or more information, please contact Brenda Callahan at (410) 703 8211 or email bcallahan@stmarykeywest.com.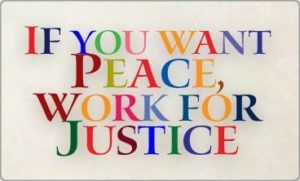 SOCIAL JUSTICE MINISTRY MONTHLY MEETING
Social Justice, is a newly forming ministry here at the Basilica of St. Mary Star of the Sea that strives to help parishioners recognize and respond to their baptismal call to discipleship. Rooted in Scripture and guided by Catholic Social Teaching (CST), this ministry seeks to educate the parish about social ministry and provide the means by which individuals and the parish community can use their gifts to serve the poor and vulnerable and to work for justice locally and throughout the world. If you are interested in learning more about Social Justice and becoming a part of this vibrant ministry, please join us on Monday, January 15th, 2018 at 5:30 PM, in the St. Francis Room of the KMC. For more information, contact Brenda Callahan at 410-703-8211 or email bcallahan@stmarykeywest.com.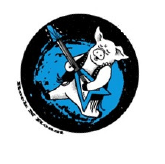 11th ANNUAL ROCK N ROAST
The 11th Annual Rock N' Roast will be held on Saturday, February 3rd from 4:00 – 9:00pm, on the beautiful grounds of The Basilica School. The Rock n' Roast has become an event not to be missed in Key West. Entertainment from local musicians, a fabulous pork roast dinner provided by Chef John Correa of Café Sole, and a huge and truly unique Silent Auction make this event fun for the whole family. This is also our school's largest fundraising event of the year. We need your help to make this year's event a success. First, say a prayer for the event. Good weather always makes an outside show more enjoyable. Second, attend the event and enjoy the fun firsthand. Finally, contribute to the silent auction or become an event sponsor. Please visit our webpage for more information on sponsoring this year's Rock N' Roast. See you in February!

Movie Night January 2018
Please join the Social Justice Committee on Thursday, Jan 18th for a potluck meal and movie night in the Mary Immaculate Room of the Klaus Murphy Center. The potluck will begin at 5:30 pm followed by the movie at 6:15 pm. Please remember to bring your dinnerware and cup. We will be screening Face to Face, a movie that shows a restorative justice conference from beginning to end much like Twelve Angry Men shows jury deliberation. After the movie there will be a short discussion about how it relates to Catholic Social Teaching and our obligation to life and dignity of the human person. For more information please call Jay Schwermer at 305-942-0480.
RELIGIOUS EDUCATION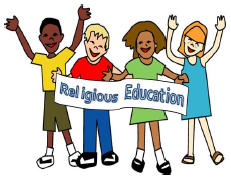 The Religious Education Program at the Basilica of Saint Mary Star of the Sea invites all families, to enroll their children , Kindergarten thru 8th grade who do not attend the Basilica School. Classes are held on Wednesday evenings from 6:30-7:30pm.
Our Monthly Mass will be held on Wednesday, Jan. 17 at 6:30pm. in the Basilica for all the Religious Education (CCD) students and their parents.
For more information call Ida Roberts, the Religious Education Program Director, at (305) 295-0306.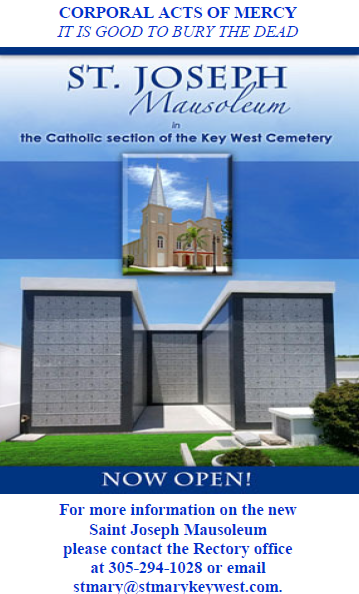 Building the Basilica School Activity Center
To Serve Our Community in Mind, Body, and Spirit
In late Dec. 2015, the School's gymnasium was declared structurally unsound, was eventually condemned, and demolished along with the attached cafeteria. After much deliberation with the Archdiocesan Building Director and our building committee, a plan was set forth to build the Basilica School Activity Center. The Architectural Firm is Villa and Associates. The construction company of Charley Toppino and Sons was selected to be the project contractor. The total project development budget for the Basilica School Activity Center was reduced to $2.983 M which includes all soft costs, hard costs, owner equipment costs, and project contingencies (including architectural fees and demolition costs already paid).
The Capital Campaign, Building The Basilica School Activity Center to Serve our Community in Mind, Body and Spirit, formally began in August 2016. To our astonishment and with our gratitude $2,702,608.00 has been raised or pledged to date.
We humbly appeal for your assistance to bridge the gap. To make a donation, please visit www.basilicaschoolkeywest.com or call
305-294-1031.
The Basilica of St. Mary Star of the Sea
Address
The Basilica of Saint Mary Star of the Sea
1010 Windsor Lane
Key West, FL 33040
Phone/Fax
305-294-1018 Office
305-292-8096 Fax
Email