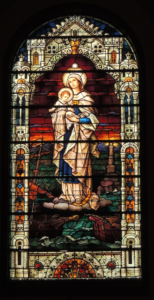 "With a hymn composed in the eighth or ninth century, thus for over a thousand years, the Church has greeted Mary, the Mother of God, as "Star of the Sea": Ave maris stella. Human life is a journey. Towards what destination? How do we find the way? Life is like a voyage on the sea of history, often dark and stormy, a voyage in which we watch for the stars that indicate the route. The true stars of our life are the people who have lived good lives. They are lights of hope. Certainly, Jesus Christ is the true light, the sun that has risen above all the shadows of history. But to reach him we also need lights close by—people who shine with his light and so guide us along our way. Who more than Mary could be a star of hope for us? With her "yes" she opened the door of our world to God himself; she became the living Ark of the Covenant, in whom God took flesh, became one of us, and pitched his tent among us (cf. Jn 1:14).
Pope Benedict XVI from his Encyclical Letter, Spe Salvi
WELCOME VISITORS AND NEW PARISHIONERS
Welcome to The Basilica of Saint Mary Star of the Sea. Whether you are a visitor or new to our parish, interested in becoming Catholic, seeking to return to the practice of your faith or an active member of our parish, we are pleased that you have come to our website and we will do all that we can to assist you. If you cannot find the information that you are seeking on this website, please call our parish office (305) 294 1018 or email us at stmary@stmarykeywest.com and we will make every effort to help you.
If you are a new parishioner, you are invited to stop by the Rectory to register and let us know how we may be of service to you.
You are welcome to pray in the historic Grotto of Our Lady of Lourdes, the Stations of the Cross Garden, to adore the Blessed Sacrament in the Adoration Chapel and to visit our Gift Shop.
Pamphlets, leading you on a self-guided walking tour of the Basilica, are available at the entrance to the Basilica or you can visit our Web App at http://bsmkw.com on your mobile device.
Online Gift Shop Now Open!
Our online gift shop is now open. You may now purchase items and have them shipped directly to you. If you have visited our store and don't see some of our items online, give us a call and we will ship the order to you.
Gift Shop Hours
Mon-Fri: 9am – 3pm, Sat: 9am – 2pm, Sunday after all Masses.
For information, call Liz Buchman at (305) 294-0651.
All proceeds from the Gift Shop benefit The Basilica School.
Shop Now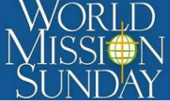 Next Sunday, October 21, is WORLD MISSION SUNDAY, we are called to be part of the Church's missionary efforts, supporting
mission priests, religious Sisters and Brothers, and lay catechists who provide loving service to those most in need. As Catholics
around the world — here at home and in the Missions — gather at the Eucharist around the table of the Lord, let us… PRAY for the Church's worldwide missionary work OFFER financial HELP through The Society for the PROPAGATION OF THE FAITH for vulnerable communities throughout Asia, Africa, Latin America and the Pacific Islands.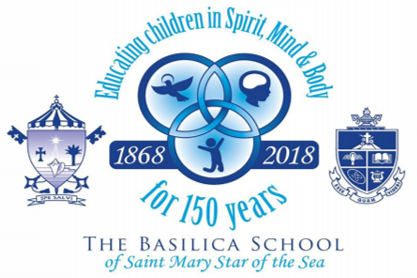 One hundred and fifty years ago, the Sisters of the Holy Names of Jesus and Mary arrived in Key West on October 25. In celebration of this anniversary, there will be the opening on October 24, 2018 of an exhibition in one of the galleries at The Holy Names Heritage Center, 3319 Bayshore Blvd., Tampa ,FL (holynamestpa.org/heritagecenter) (813)-839-5371.
The Sisters of the Holy Names of Jesus and Mary served this community magnificently in the providing four Schools: The Convent School of Mary Immaculate, St. Joseph School, St Francis Xavier School and St. Mary Star of the Sea Elementary School. May we give thanks to God for their service.
UPCOMING EVENTS:
Parent-Teacher Organization
Our next PTO meeting will be on Wednesday Oct 24 at 5:30pm. We will gather in the school library for this meeting.
PTO Meeting – October 24
Basketball Season Begins- October 23
School Picture Day – October 25
Trunk or Treat – October 31
Save the Date!
The Basilica School's annual Christmas Program will be held on December 18th at 6:00pm in the Key West High School Auditorium.

MASS FOR THE FAITHFUL DEPARTED WHO DIED THIS PAST YEAR
The Bereavement Ministry invites those who have suffered the loss of a loved one, this past year, to a Mass on Wednesday, November 7, at 6:00pm in the Basilica.
During the time of the Prayer of the Faithful, the name of your loved one will be lifted up in prayer. It is our hope that one of your family members will come forward to light a candle at that time. This ministry has helped send letters to the families whose faithful departed were commended to God by the priests and deacons of this Parish this past year. Yet, we know that many parishioners went to the funerals and burials of their loved ones in other parts of Florida, other states and other nations. You are invited as well to this Mass. If you are able to participate in this Mass, please call the Rectory at (305) 294-1018 to assure the inclusion of your faithful departed.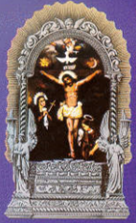 SEÑOR DE LOS MILAGROS –  LORD OF MIRACLES
You are invited to participate in the Mass in honor of Our Lord of Miracles on October, 21 at the 12 noon Mass.
Queremos invitar a todos los parroquianos a participar en la venidera celebración del Señor de los Milagros el 21 de Octubre en la Misa del mediodía.
RELIGIOUS EDUCATION CURRICULUM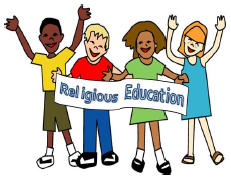 The Archdiocese of Miami has mapped a cumulative religious education curriculum from grades 1-8. This curriculum has been adopted by all Religious Education publishers of text books used in the Archdiocese of Miami. This curriculum has been implemented in all 104
parishes in the Archdiocese of Miami this academic year. It is essential that students participate in all eight years to have an optimal religious education.
From the Archdiocese of Miami Sacramental Guidelines: "Young people, who have been baptized as infants, should be catechized for Confirmation for a period of at least two years. When a child's catechesis has been interrupted for more than one year after First Communion, the preparation period for Confirmation may need to be extended to at least three years."
Seventh grade (Dr. Mona Clark's class) is now called Confirmation I and eighth grade (Principal Robert Wright's class) is now called Confirmation II. Any one who expects to enter Confirmation II in 2019-2020 and to receive the Sacrament of Confirmation in March of 2020 would have had to participate in Confirmation I this academic year 2018-2019.
Archbishop Wenski will come to our Parish to administer the Sacrament of Confirmation for those who have been baptized on Thursday, March 7, 2019 at 7:00 p.m.Rehearsal for this Confirmation will be on Tuesday, March 5, 2019 at 6:00 p.m..
Religious Education Classes are held on Wednesday evenings from 6:30p.m.-7:30p.m. at the Basilica School
For more information please contact Alexandra Chuquillangui, the Religious Education Director at 305-295- 0306. There will not be classes on Halloween, October 31st.

SPECIAL COLLECTION: HURRICANE MICHAEL RELIEF
In light of the natural disasters affecting our State and others in the region, There will be a special collection on the weekend of October 27-28. The proceeds of this collection will be used to help the Church in areas affected by hurricane Michael.
The Archdiocese of Pensacola-Tallahassee have suffered the loss of 4 parish churches and a school . Through the generosity of a member of our Archdiocese, we were able to send Bishop William Wack $100,000.
If you would like to participate in this effort, you may place your offering in an envelope marked "Hurricane Michael" in the collection basket on the weekend of October 27/28. Checks should be made payable to the Basilica of Saint Mary Star of the Sea and a write "Hurricane Michael" in the memo. The Archdiocese of Miami will then send all of the one hundred ten Parish offerings to Bishop Wack at the Archdiocese of Pensacola-Tallahassee. Some of you are still repairing your homes and are still paying off debt; the offering of prayer for our brothers and sisters in the Panhandle is essential and most helpful.

THE SOLEMNITY OF ALL SAINTS
Let us rejoice in the men and women, blest in the eyes of the Lord who celebrate the heavenly liturgy: they sing of the love of God, pray for our needs and provide us hope by their holy example. Masses on Thursday, November 1st will be: 7:30a.m., 9:15a.m. School Mass, 12:00 Noon, 6:00p.m. and 7:30p.m.in Spanish.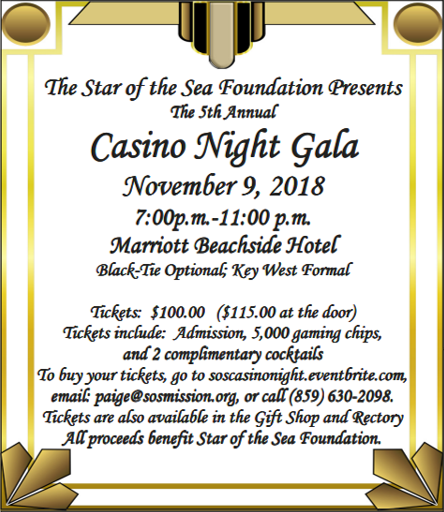 NEW BEGINNINGS/ THE GABRIEL PROJECT
In 1995, the Catholic Daughters helped to form New Beginning Ministries. Jean and Jim Maun, who have led this ministry for over twenty-three years, are no longer able to continue in this ministry due to age and health. We are most grateful to the Maun Family for their outstanding service.
On the weekend of October 27/28 at the end of all weekend Masses, Mr. Fredi D' Allesio will invite us to participate in the Gabriel Project. The Gabriel Project aligns with the mission and the service of New Beginnings ministry. The Gabriel Project® is a confidential and compassionate outreach to women who are distressed over an unplanned pregnancy. The Gabriel Project relies on local parish communities to respond in a loving manner to the needs of the mother-to-be, witnessing to the infinite and healing love of God. A trained "Gabriel Angel" from a participating church supports the woman's choice for life through friendship, encouragement, and prayer throughout her pregnancy. In addition to providing emotional and spiritual support, the "Gabriel Angel" helps the expectant mom with various practical needs, including finding resources such as the following:
• Pregnancy information and assistance with pre-natal care
• Maternity and baby clothes, cribs, strollers, and various baby items
• Referrals for housing, medical care and counseling

RESPECT LIFE MONTH
Each October, the Catholic Church in the United States celebrates Respect Life Month to proclaim the immeasurable value of every person from conception to natural death. Celebrate Respect Life Month!
This year's theme "Every Life: Cherished, Chosen, Sent" references that the essence of our identity is that we are created in God's image and likeness and loved by Him. Nothing can diminish the priceless worth of any human life. Every person is cherished. God creates every person for eternal union with Himself and continually invites us to embrace a loving relationship with Him. Every person is chosen. We are called to be messengers of God's love, treating one another as cherished and chosen by Him. In doing so, we help build a culture that respects all human life. Every person is sent. Like St. Juan Diego, let us embrace our daily mission to help others encounter God's transforming, life-giving love.
On the weekend of October 13/14, the Catholic Daughters will lead a decade of the Rosary during the time of five weekend Masses for a greater respect of the value and dignity of human life.

COMPASS 82: Were you affected by Hurricane Irma? Do you need help navigating available resources? Compass 82, a nonprofit that specialized in navigating disaster recovery resources, has partnered with VOLUNTEER FLORIDA to provide Disaster Case Management to residents of Monroe County who were affected by Hurricane Irma. Call today for Disaster Case Management services at 1-305-859-4762.
REBUILD FLORIDA: Rebuild Florida is a program of the Florida Department of Economic Opportunity. To those Florida homeowners who were impacted by Hurricane Irma, we know your road to recovery has been long and difficult. Our team is here to help eligible Floridians repair, rebuild or replace your home. For more information call 844-833-1010.
NOW HIRING: Catholic Charities is looking to hire a Counselor who will provide Solution Focused Brief Therapy for individuals and families from the community. Position requires local travel within Monroe County and Licensed in Social Work, marriage and Family Therapy or Mental Health Counseling in the state of Florida. Apply Online at www.ccadm.org.
For more information on these programs and other services provided by Catholic Charities call 305-292-9790 or visit them at 2409 N. Roosevelt Blvd., Suite #1, Key West, Florida.
The Basilica School: Fostering growth in spiritual,
academic, cultural, and social development.
To make a donation, please visit
www.basilicaschoolkeywest.com or call 305-294-1031.
The Basilica of St. Mary Star of the Sea
Address
The Basilica of Saint Mary Star of the Sea
1010 Windsor Lane
Key West, FL 33040
Phone/Fax
305-294-1018 Office
305-292-8096 Fax
Email