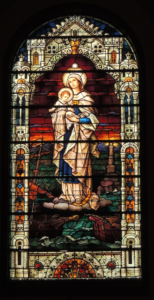 "With a hymn composed in the eighth or ninth century, thus for over a thousand years, the Church has greeted Mary, the Mother of God, as "Star of the Sea": Ave maris stella. Human life is a journey. Towards what destination? How do we find the way? Life is like a voyage on the sea of history, often dark and stormy, a voyage in which we watch for the stars that indicate the route. The true stars of our life are the people who have lived good lives. They are lights of hope. Certainly, Jesus Christ is the true light, the sun that has risen above all the shadows of history. But to reach him we also need lights close by—people who shine with his light and so guide us along our way. Who more than Mary could be a star of hope for us? With her "yes" she opened the door of our world to God himself; she became the living Ark of the Covenant, in whom God took flesh, became one of us, and pitched his tent among us (cf. Jn 1:14).
Pope Benedict XVI from his Encyclical Letter, Spe Salvi
WELCOME VISITORS AND NEW PARISHIONERS
Welcome to The Basilica of Saint Mary Star of the Sea. Whether you are a visitor or new to our parish, interested in becoming Catholic, seeking to return to the practice of your faith or an active member of our parish, we are pleased that you have come to our website and we will do all that we can to assist you. If you cannot find the information that you are seeking on this website, please call our parish office (305) 294 1018 or email us at stmary@stmarykeywest.com and we will make every effort to help you.
If you are a new parishioner, you are invited to stop by the Rectory to register and let us know how we may be of service to you.
You are welcome to pray in the historic Grotto of Our Lady of Lourdes, the Stations of the Cross Garden, to adore the Blessed Sacrament in the Adoration Chapel and to visit our Gift Shop.
Pamphlets, leading you on a self-guided walking tour of the Basilica, are available at the entrance to the Basilica or you can visit our Web App at http://bsmkw.com on your mobile device.

THANK YOU to everyone who generously made a commitment to the 2019 Archbishop's Charities and Development Drive (ABCD). If you have not yet completed your pledge, please prayerfully make your pledge and return it to the church office or in the collection basket. You can obtain a pledge envelope at the entrance of the Basilica, from the Rectory or you can make a gift online at www.isupportabcd.org.
Please note on the envelopes that there is a field for Parish in the upper left hand side. Please do not write Saint Mary as that is the name of the Cathedral; please write Basilica. If you choose to write a check, designate it as ABCD with Basilica in the memo.
We are confident that, with God's help and yours, we will unite to make a difference in the lives of those in need!
Thank you and God bless you!
Online Gift Shop Now Open!
Our online gift shop is now open. You may now purchase items and have them shipped directly to you. If you have visited our store and don't see some of our items online, give us a call and we will ship the order to you.
Gift Shop Hours
Mon-Fri: 9am – 3pm, Sat: 9am – 2pm, Sunday after all Masses.
For information, call Liz Buchman at (305) 294-0651.
All proceeds from the Gift Shop benefit The Basilica School.
Shop Now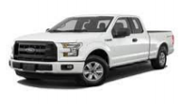 WIN A 2018 FORD 150
Tickets are available at the Basilica School Office, Rectory Office and Gift Store. Cost is $50.00, Second Prize is $1,000—Third Prize is $500. Only 1000 tickets will be sold. Drawing will be held on Sunday, May 19, 2019 following the 10:30 Mass.
♦ You need not be present to win.
♦ Winner must be 18 years old and is responsible for taxes, tag, dealer prep, transfer and pick up.
Thank you to Keys Auto Center for donating the car. All proceeds to benefit The Basilica School.

A Gift for You: FORMED
The Archdiocese of Miami partnered with the Augustine Institute to provide a digital platform entitled FORMED for all of the parishes within the Archdiocese and graciously extended it to us. FORMED is considered the "Netflix for Catholics" and provides extensive access to on demand videos, audio presentations, and eBooks for adults and children in English and in Spanish These resources can be easily accessed online and on any device anytime, anywhere. To start your free membership, go to www.stmaryskw.formed.org. If prompted to enter a code, enter N4K8W9. If you need assistance or have any questions email them to formed@stmary.com. Enjoy!

BEREAVEMENT MEETINGS
If you are working your way through the grieving process from the death of a spouse, parent, child, sibling or friend, be reminded that grief support meetings are available to you every Thursday at 7:15 pm in the St. Francis Room of the Klaus Murphy Center. All bereaved are invited to receive support.

PERPETUAL ADORATION CHAPEL
Everyone is welcome to spend some quiet time with Jesus in our Adoration Chapel. May we take advantage of this great opportunity to be in the presence of the Body of Christ. Come and let Him transform you. Please call Maria Delpino at (305) 587-3545 if you are interested in filling in the adoration hours or to be part of the substitute list.
RELIGIOUS EDUCATION PROGRAM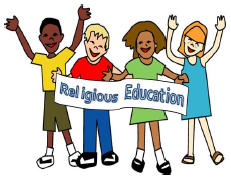 The Religious Education Program at the Basilica of Saint Mary Star of the Sea invites all families, to enroll their children, Kindergarten thru 8th grade who do not attend the Basilica School
You may register by:
• • E-mail : alvarez@basilicaschool.com
• • By telephone: 305-295-0306
• • Walk-ins are welcome at the Basilica School of         Saint Mary Star of the Sea.
First Holy Communion, Confirmation and Faith Formation classes are held on Wednesday from 6:30 to 7:30pm.
For more information please contact Alexandra
Chuquillangui, the Religious Education Director at
305-295-0306.
THE SACRAMENT OF CONFIRMATION
On Thursday, March 7, 2019, Archbishop Thomas G. Wenski is to administer the Sacrament of Confirmation at 7:00p.m. for those who have been baptized. The Confirmation rehearsal will be on Tuesday, March 5 at 6:00p.m., either a parent or the sponsor will need to accompany the candidate to the rehearsal. Please report directly to the Basilica for the Rehearsal.
VIRTUS CLASS
Sunday February 24th at 9:45 a.m.
There will be a Virtus class Sunday February 24th at 9:45 a.m. in The Basilica School Library. Please pre-register online at www.virtusonline.org. (Walk-ins are welcome, but you must register on-line immediately after the class to get credit. We can help with that.) The class runs about two hours, and please note that children may not attend.
The Archdiocese of Miami requires that all volunteers who work with children or vulnerable adults: 1) participate in the Virtus® program, and 2) be fingerprinted. This includes Eucharistic ministers who visit the homebound, senior servers, and volunteers for school, scouts and Religious Ed.
Fingerprinting is done at The Basilica School but you must first register with www.fieldprintflorida.com. Call the school office (294-1031) for access codes or more information. We're happy to help.
If you have questions about Virtus or fingerprinting, call or email Eileen D-H at school (edh@basilicaschool.com). Many thanks to those who already participate in Virtus. Please remember to read your monthly bulletins to retain your active status in the program. God bless you for your dedication to protecting the vulnerable among us.
PROGRAMA VIRTUS
PROTEGIENDO LOS NIÑOS DE DIOS
Habrá una clase del programa Virtus el domingo 24 de febrero a las 9:45 a.m. en la biblioteca de la escuela Basílica. Por favor pre-regístrese en línea en www.virtusonline.org. También puede participar en la clase y registrarse en línea inmediatamente después de esta para obtener el crédito. La clase toma aproximadamente dos horas. No se permite la presencia de menores de edad.
La Arquidiócesis de Miami requiere que todos los voluntarios que trabajan con niños o adultos vulnerables: 1) participen en el programa Virtus ®, y 2) registren sus huellas dactilares. Esto incluye a los ministros Eucarísticos que visitan las casas, los servidores adultos y voluntarios de la escuela, los Scouts y los instructores de educación religiosa, etc.
Las huellas dactilares se toman en la escuela de la Basílica, pero primero debe registrarse en www.fieldprintflorida.com. Por favor, llame a la oficina de la escuela (294-1031) para obtener códigos de acceso o más información. Estamos aquí para servirles.
Si usted tiene preguntas sobre el programa Virtus, llame o envíe un correo electrónico a Eileen D-H en la escuela (edh@basilicaschool.com)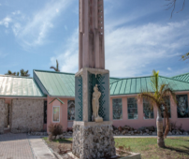 SAINT PETER CHURCH NEEDS A LENDING HAND
Saint Peter Church, Parish Center and Offices in Big Pine were destroyed by Hurricane Irma. Though an architectural design has been selected by the Archdiocese of Miami, our brothers and sisters need our help in their transitional phase. From May until season in January, St. Peter Parish is celebrating Mass in their Ministry Center. From January until May, St. Peter Parish offers Mass in their pavilion which is covered for inclement weather with air-conditioning. Fr. Jets Medina, St. Peter's Pastor, requested our help in providing a statue of the Blessed Virgin Mary and a processional cross for the pavilion Masses in the interim. Saint Peter Parish will have new Statues in their new Church Building.
The material items of the former Catholic Chapel at Truman Annex were donated to our Parish. The beautiful olive wood statue of the Blessed Virgin Mary was placed in our Perpetual Adoration Chapel by the entrance near the original baptismal font of our Church; the Processional Cross was placed to the left of the image of Divine Mercy. I shall lend these two items to St. Peter Parish for their interim. May the beauty of these images provide consolation and hope to our brothers and sisters in Big Pine in the interim as they have for us.
The Basilica School: Fostering growth in spiritual,
academic, cultural, and social development.
To make a donation, please visit
www.basilicaschoolkeywest.com or call 305-294-1031.
The Basilica of St. Mary Star of the Sea
Address
The Basilica of Saint Mary Star of the Sea
1010 Windsor Lane
Key West, FL 33040
Phone/Fax
305-294-1018 Office
305-292-8096 Fax
Email