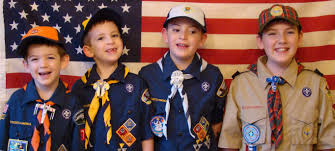 Cub Scouts: Have Fun, Make Friends, See New Things!
For over 80 years, Cub Scouts have been having the time of their lives making new friends and learning new things in an environment designed to help them succeed. From building his own pinewood derby® car to learning how to roast the perfect marshmallow with his best friends at a family campout, your child will LOVE being a Cub Scout.
So if your child is in the first through fifth grades, or 7 to 10 years old, then it's time for him to have some fun … with the Cub Scouts. Pack 583 meets, here at the Basilica of St. Mary Star of the Sea, each Monday evening at 5:30 PM in the Mary Immaculate Room of the Klaus Murphy Center.
For more information, please contact Scott Wilcox at 305 619 5055 or email him at keywestframing@gmail.com
Boy Scouts: How About an Adventure?
Boy Scouts prove themselves in an environment that challenges their courage and tests their nerve. After they've been given the proper guidance from those with experience and know-how, they take their own lead, going places they've never gone, seeing things they've never seen, and diving into the rugged world of outdoor adventure, relying on teamwork and character to accomplish what everyone else thinks is impossible.
Sound fun? If you're a boy age 11, or at least 10 and have completed the fifth grade, or have earned the Cub Scout Arrow of Light Award, to 17 years old, the time for a real adventure is now. Troop 578 meets, here at the Basilica of St. Mary Star of the Sea, each Monday evening at 6:30 PM on the second floor of  St. Theresa's Hall (behind church near Sacred Heart Hall)
For more information, please contact Bob Schillinger at 305 -747- 4717 or email him at
For more information on the National Organization: www.beascout.org